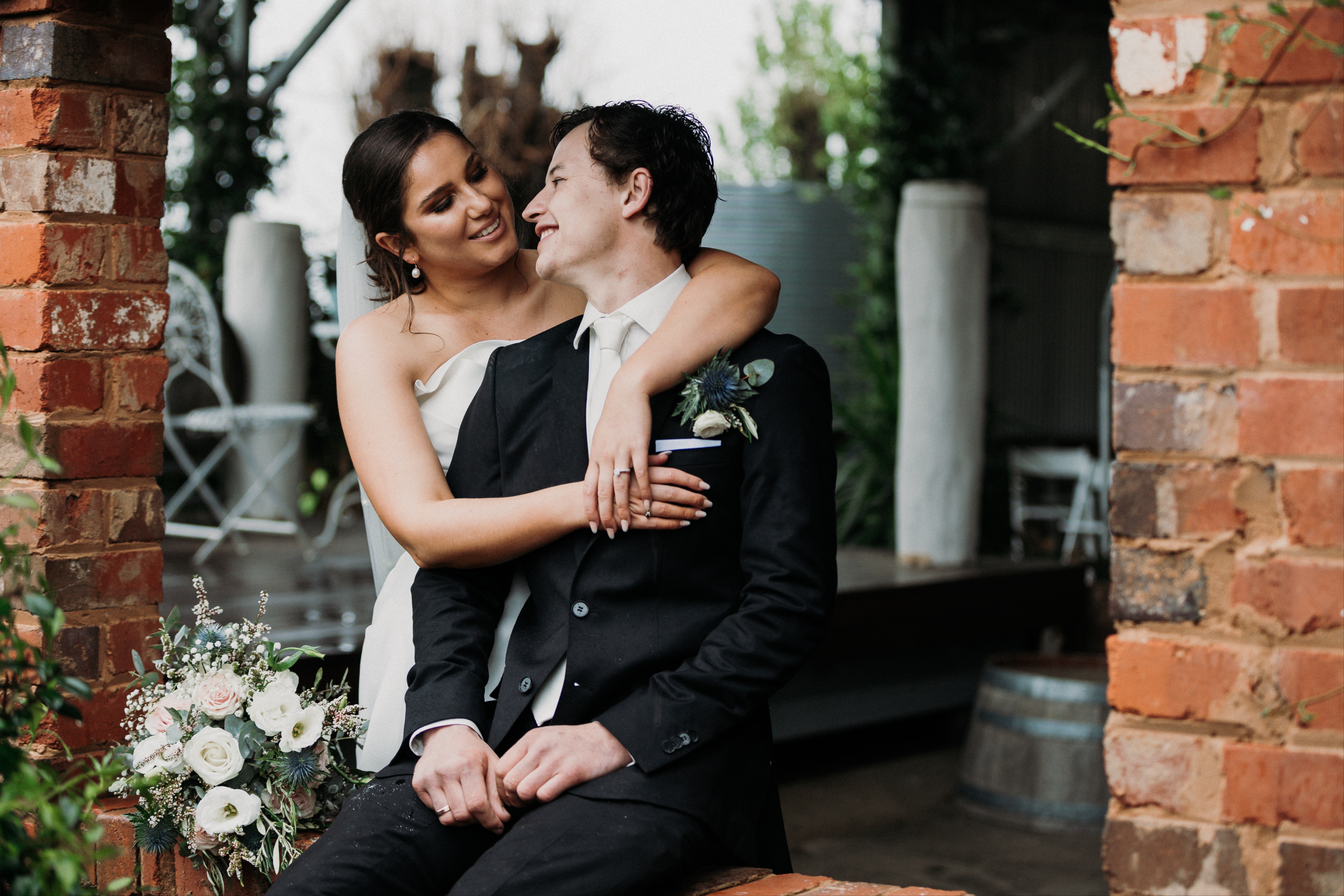 The story of how we met goes a little like this… one Saturday night, at the Commercial Hotel in Dubbo, there was a barmaid and an apprentice mechanic. Emma asked Jackson to see a form of ID as he looked cute but young. From there it kicked off, we seemed to keep running into each other. The rest was history from then!
The most memorable moment from our day was… the fact that there was torrential rain, and it did not seem to dampen the day or anyone's spirits.
The song for our first dance was… Millionaire by Chris Stapleton
We're so glad we… went with our audio guest book! Instead of having a guest book for people to sign, we had an audio guest book which people could speak into an old rotary phone whenever they liked that night and leave us a lovely little message. It has been so great to listen back to and hear all the lovely (and funny) messages from those closest to us.
We were also so happy we went with a sit-down banquet style dinner, not only was the food complimented by everyone but the fact that people could pick whatever and however much they liked for their plate was perfect.
Overall, we were so glad we went with the beautiful Lazy River Estate for our big day. An amazing venue with the most amazing team, who were so helpful on our big day! Especially with how crazy our weather was, they went above and beyond for us.
After our wedding, we set off on our honeymoon to… Hamilton Island, we drove up the next day and spent an amazing 5 days on the island, then worked our way back down the coast of Queensland.
Vendors:
Venue - Lazy River Estate
Photographer and Videographer - Darkeye Photography
Celebrant - Sue Curley
Dress -Newcastle Bridal House
Bridesmaid dresses - Shona Joy
Hair - Hair by Eadie
Makeup - Tay Radford
Suits - Harry's for Menswear
Catering - Lazy River Estate
Venue Styling - Dubbo Wedding Shoppe
Flowers - Denise's Flower Studio
Music - Brad Haling
Wedding Bands - Kings Hall Jewellers
Cake - Bespoke Catering Co. (Mudgee)